Nema 17 closed loop motor and driver
Motor Electrical Parameters
Model No.
Phase No.

Step Angle

(°)

Current (A)

Resistance

(Ω±10%)

Inductance

(mH±20%)

Holding Torque (N.m)
Motor Length (mm)
Encoder Resolution (PPR)
Weight (kg)
42HSE05N-D24
2
1.8
1.5
2.8
5.5
0.55
48
1000
0.45
Motor Dimension (unit=mm)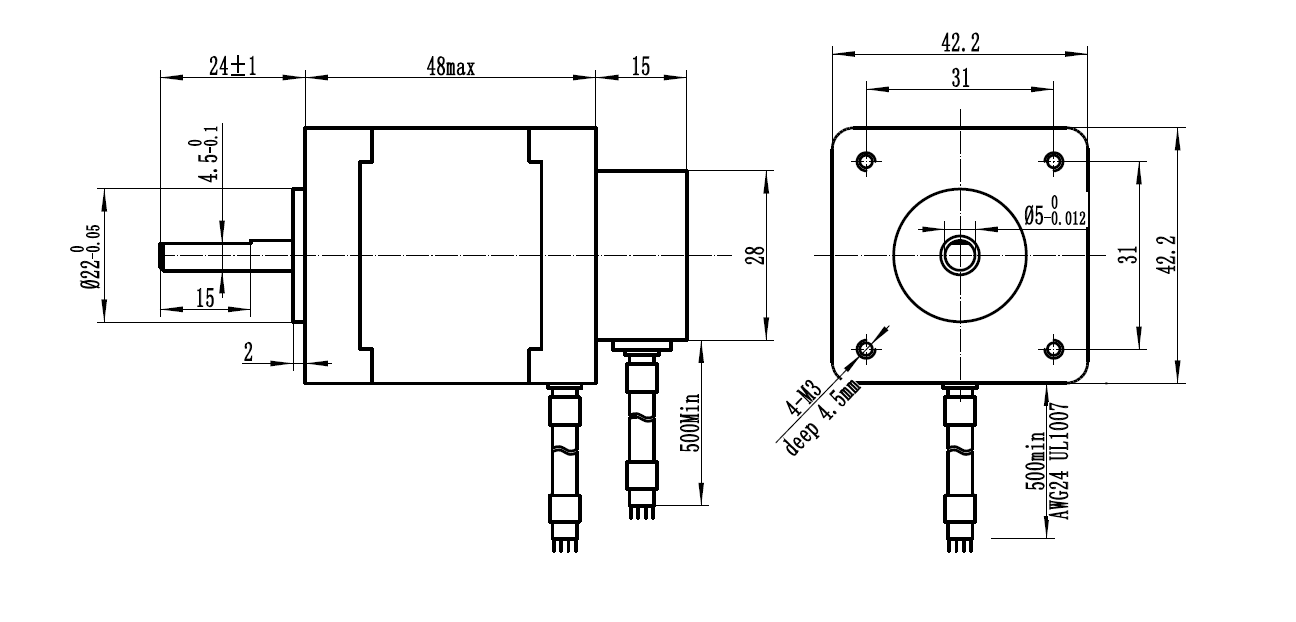 Torque/ Frequency Curve
Remark: Blue curve is nema17 standard stepper motor torque curve, red curve is nema17 closed loop torque curve.
Close Loop Driver HSS42
Features
1. Position error correction and never lose steps.
2. Quick response and perfect acceleration, high torque at high speed.
3. Automatic current adjustment based on load, lower temperature rising
4. Over-current, over-voltage and position ultra difference protection function
5. Pulses response frequency can reach 200KHZ
6. 16 kinds microsteps choice, highest 51200 microsteps/rev.
7. Drive Nema 17 series 0.55N.m closed loop stepper motor
8. Voltage range: DC24V-50V
Microstep Selection:
| | | | | |
| --- | --- | --- | --- | --- |
| Micorstep/rev | SW3 | SW4 | SW5 | SW6 |
| Default(400) | on | on | on | on |
| 800 | off | on | on | on |
| 1600 | on | off | on | on |
| 3200 | off | off | on | on |
| 6400 | on | on | off | on |
| 12800 | off | on | off | on |
| 25600 | on | off | off | on |
| 51200 | off | off | off | on |
| 1000 | on | on | on | off |
| 2000 | off | on | on | off |
| 4000 | on | off | on | off |
| 5000 | off | off | on | off |
| 8000 | on | on | off | off |
| 10000 | off | on | off | off |
| 20000 | on | off | off | off |
| 40000 | off | off | off | off |
Driver Dimension
Wiring Diagram